P2
Welcome to Primary 2.
Our teacher is Mrs Eldon.
Our classroom assistant is Mrs McIvor.
We have 28 boys and girls in Primary 2.
We are very busy bees. We really enjoy our learning.
Latest Photographs
Collecting Autumn Leaves. We are so excited!!!
Outside exploring, looking for signs of Autumn.
Recording information.
Identifying the leaves we found.
Following instructions to make an Autumn animal with leaves.
Following instructions to make a leaf rubbing. Exploring blending Autumn colours. We were delighted with ourselves.
Busy at the Writing Table.
Drawing an Autumn picture.
Labelling.
Making an Autumn book.
Following a recipe to make Autumn perfume.
We asked for some flower petals for our perfume. We were delighted when our perfume finally had a gorgeous smell.
Counting conkers and making number cards to match.
Finding out about Autumn using our topic box. "Mrs Eldon, can we please have some more books about tractors and farming?!"
Making a hedgehog using clay and sticks. The children decided to go outside and make a bed for the hedgehog to hibernate in.
Our Autumn challenge.
Watch our Mr Squirrel and Mr Hedgehog, Primary 2 have arrived!
Using all of our senses to appreciate the new season of Autumn.
We thought Mr Squirrel might live here.
Identifying leaves.
The magnifying glasses were a great help. We were able to see the veins up close.
More Autumn exploring.
Our Autumn challenge. We had to follow the Autumn instructions.
Some numeracy, looking for the tallest and shortest trees.
What a brilliant day to be outdoors learning.
Exploring jungle patterns and camouflage using oil pastels.
Following instructions with the jungle dough.
Role play- we picked our favourite jungle story and used the puppets to act it out. We had a narrator and characters. We tried hard to use voices for the characters.
Recreating the jungle habitat in the real world tray. We used information books to give us information about the jungle.
Busy at the writing table writing a list of jungle animals.
Making maps to help us explore in the jungle.
Making a book about the jungle.
Counting jungle animals.
Making a counting book about the numbers to 10.
Building jungle animals using cubes. We had to work together on this one.
We are jungle explorers.
What equipment do we need?
We thought this would be great camouflage for us to use in the jungle.
Setting up camp.
Finding out more information about the animals we are looking for.
Dinner is ready.
Great camouflage for our tent.
On safari!
Class Photograph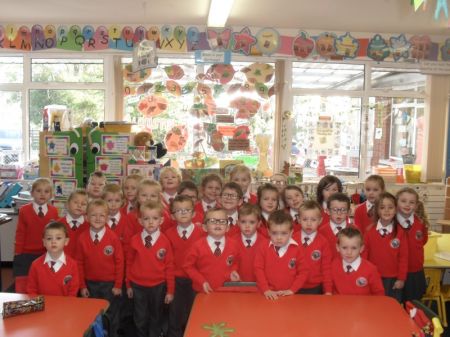 &nsbp;
Orritor Primary School and Nursery Unit, 249 Orritor Rd, Cookstown, County Tyrone, BT80 9NE
Tel: 028 8675 1412
WEBSITE BY: SCHOOLWEBDESIGN.NET | Login