P2
Welcome to Primary 2.
Our teacher is Mrs Eldon.
Our classroom assistant is Mrs McIvor.
We have 28 boys and girls in Primary 2.
We are very busy bees. We really enjoy our learning.
Latest Photographs
Getting the mail room ready for Santa. We have cards to write, labels to make, stamps to design and envelopes to address. We loved doing this.
Each year Santa's elves like to create new toys. We helped the elves by designing a new toy. We told Santa all about our inventions.
After 100 years of wearing the same old red suit. Santa is ready for a change. We designed a new suit for Santa. We had lots of different colours of suits. Our designs had magic dust in the boots to use when Santa gets too tired, a magic belt and a colourful feather to wave when someone sees Santa in their house to send them back to sleep. We really enjoyed talking about our designs.
Santa's elves were having trouble remembering all the different jobs they have to do on Christmas Eve. We wrote a list to help them get organised.
We know all the names of the reindeer. We made a list.
We identified 2D shapes and recorded information about the number of shapes. Then we designed our own Christmas picture.
Santa was having trouble fitting all the toys into the sleigh. We helped him to pack the sleigh, putting the toys in, in order of size.
Meet Santa!!!
Mr Cruise came into school to do drums with us. We had to listen very carefully and follow his instructions. We played lots of fun games and made some great music. We loved it!
As part of our literacy we had to sequence the instructions for putting up the Christmas tree. We had great fun following the instructions.
When we had our tree decorated, we checked our instructions then we did a countdown in the classroom and switched on our tree. We had our snack in the dark with the tree lit and the Christmas music playing. We were very excited!
At Halloween we read a book about a very naughty monster.
We sequenced the story.
We created our own monsters. We gave our monster a name and talked about all the things our monster could do.
Monster Maths.
Measuring.
Adding.
Taking away.
Counting amounts within 17.
We read and retold lots of stories about travelling on a journey.
We went outside to create the town. We wanted to put in lots of shops, houses a Tesco store, a library, lots of roads and cars. Some groups had a dentist and a jewellers.
Outside creating the country scene. We wanted lots of fields and trees with animals, a farm with animals and lots of farm machinery. We knew we only needed a few houses.
We wanted to make people to travel in our vehicles. We worked hard to design the people, join parts and create a person with clothes. It was great fun.
Using the BeeBot to travel around the town and the country. We can programme the BeeBot to go forwards, backwards, left and right. We also made up a sequence for our partner to follow. Sometimes the BeeBot ended up in the lake or the cow field!
We wanted to make buildings and vehicles using the building materials.
We were able to talk about what our constructions could do.
This is fabulous.
Our finished constructions.
Matching lowercase letters to uppercase letter.
Working on our computer skills. Using the mouse to draw, colour and print our work.
Our finished pieces. We are very proud.
Working at the writing table to draw and label a vehicle. Make a list of vehicles. Use the stampers to stamp and using the word bank to label the vehicle.
Number bonds up to 10.
Putting capital letters in order.
Matching lowercase letters to uppercase.
Perfecting out time telling with the bingo game.
Using the book box to find out more information about Journeys and transport.
Our Work.
Class Photograph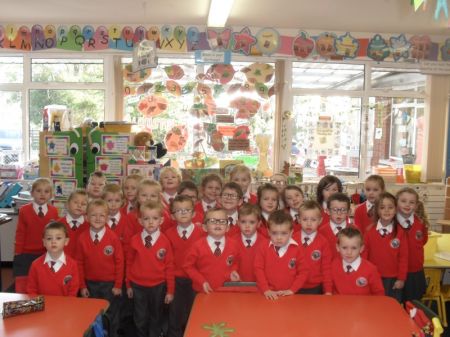 &nsbp;
Orritor Primary School and Nursery Unit, 249 Orritor Rd, Cookstown, County Tyrone, BT80 9NE
Tel: 028 8675 1412
WEBSITE BY: SCHOOLWEBDESIGN.NET | Login